We help get your book in focus and into the world.
At Clear Sight Books, we work with seasoned professionals—executives, consultants, speakers, entrepreneurs—on nonfiction books that support their business or career. We help in two ways: writing and publishing.

Writing Your Book
Maybe you've got an idea but aren't sure where to start or how to flesh it out. Or you've got a draft but don't know if it's making your point effectively. Or you're so busy running your business that you can't find time to write.
We're here to help you find your core message, and then structure and shape that message. Together we'll develop a strong, compelling voice that lets you reach your intended audience. We offer:
Manuscript critiques
Editing (from in-depth revision to proofreading)
Collaborative writing or ghostwriting
Coaching while you write
Publishing Your Book
There are two primary paths for publishing—self-publishing and traditional publishing. Each has its strengths, and whichever you choose, we can help.
Self-Publishing – Clear Sight Books offers professional self-publishing services for authors who know they need a book, know they need it done right, and want to maintain control of content, design, and marketing.
Traditional Publishing – For authors who want or need a traditional publisher, Clear Sight Books offers help with query letters and book proposals.
Visit our Services page to learn more. Want to know who you'd be working with? Meet the Team.
Ready to talk?
Contact us at info@clearsightbooks.com for a complimentary 45-minute discovery session to discuss your goals and challenges. We'll let you know how we can help; if we're not the right fit, we'll do our best to point you to other resources.
And if you're not quite ready yet, sign up for our monthly newsletter for information and inspiration that can help keep you going. You'll get to know us better, and you can get in touch when the time is right.
Still on the fence about writing a book?
Writing a book is a significant investment of time, energy, and money. Take the time to understand the benefits and the effort involved before you start. Then when you're ready, you'll know what you're committing to and can jump in with both feet.
Business Benefits of Writing a Book
On a strategic business level, publishing a book increases your credibility and authority, which offers the opportunity for:
Easier Business Development – The tangible proof of your expertise reassures prospective clients and professional partners that you're the one they want to work with. As one Clear Sight Books client says, "The sales conversation changes."
Increased Professional Fees – Consultants, coaches, speakers, and similar professionals typically can charge higher rates when they have a published book. For speakers in particular, having a book is a prime differentiator in being selected to keynote a conference and the amount you can charge.
Greater Influence – Your book can help position you as a thought leader in your industry or profession. As a result, you may find increased opportunities to share your ideas, not only through your book, but through more speaking engagements, requests for interviews, or invitations to write articles for broader audiences.
Of course, those benefits require some intentional actions on your part (like raising your fees), but consider: how might your career advance if you had a book?
Personal Benefits of Writing a Book
The business benefits are nice, but sometimes the personal benefits are even bigger. Our clients often say they have accomplished something meaningful. They find a sense of completion. They feel they've fulfilled a critical purpose.
One Clear Sight Books client described it like this: "I had so many stories to tell that could help so many people… If I hadn't written my book, it would have been like dying with the music still inside me."
When clients gain that sense of wholeness, an amazing light starts to shine in them. Not only have they given their message a chance to take flight, but they've discovered new power in themselves. And that benefits all areas of their lives.
What It Takes to Write a Book
Writing a book is no trivial task. From scarce time to shaky skill to fear of the blank page, most of us face writing challenges.
Before you write, the more clarity you have on your audience, your goals, and how you plan to use your book, the easier the book-development process becomes.
On a purely practical level, you can anticipate 200 to 300 hours of writing time for a 50,000-word nonfiction business book. Caveat: This is a ballpark range—the time it takes you to write will depend on the length of book you decide to write, how well you know your content, and your interest and skill in the actual writing process.
Then there's the editing process (beta readers? revisions? Oxford comma or no Oxford comma?)…
…and publishing process (self-publishing or traditional publishing? cover design? interior design? ebook version?)…
Whew.
Can you do it yourself? Yes, you absolutely can if you have the time, skill, and fortitude.
If you'd prefer some help…
Email us at info@clearsightbooks.com to schedule a complimentary 45-minute discovery session. Let's see if Clear Sight Books is the right fit for your project.
---
Select Recent Releases
The MARVEL of Happiness: Principles, Stories and Lessons for Living Fully, Second Edition, by Philippos Aristotelous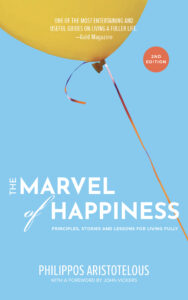 HAPPINESS MIGHT NOT BE WHAT YOU THINK.
Anyone who promises a magic recipe for happiness should be regarded with sus­picion. With The MARVEL of Happiness, Philippos Aristotelous offers something far more profound. In this second edition, he continues and expands his compelling exploration of 'the good life', weaving together insights from philosophy, psychology and personal experience.
Through thought-provoking stories and practical lessons, Aristotelous delves into the seven deadly myths that may be hindering your pursuit of happiness and uncovers the MARVEL principles that will empower you to construct a holistic sense of well-being.
Offering deep understanding and a refreshing perspective, Aristotelous challenges conventional notions and invites you to travel your unique path with The MARVEL of Happiness as your companion. The adventure awaits—unlock your version of happiness and discover the marvels that life has in store. 
Available at Amazon.
---
She Found Her Voice: The Life of Nancy Evans Roles, Artist and Advocate by Barbara McKinnon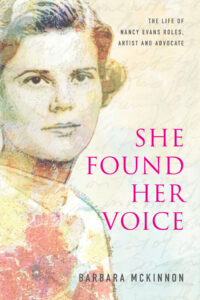 THE ART OF BECOMING tantalizes all who spend time in reflection. As a young woman coming of age in early twentieth-century America, Nancy Evans Roles documented faithfully her keen observations and rich experiences. Her reflections helped form the person she would become as she built a life of purpose and consequence.
Born in the rural South in 1908, in her twenties Nancy was introduced to the work of John Dewey, a champion of the progressive education movement. The philosophy that education must prepare students for active participation in their world would be an enduring touchstone for her. Indefatigable as a community leader, Nancy was a formidable advocate for social justice and an important voice in civic debate. She also found later success as a prolific plein air artist, all while forging a fulfilling personal life.
In She Found Her Voice, Barbara Roles McKinnon chronicles her mother's life through exploration of her papers and artifacts, and interviews with her and her contemporaries. This biography offers insight into the imagination, vision, and complexities of a woman whose life spanned a century marked by seismic transformation and whose body of work reflected a holistic, mature ethic and a deep appreciation of the natural world.
Available online at Amazon, Barnes and Noble, IndieBound, and other retailers.
---
Making Sense of Money by James C. Whitehurst III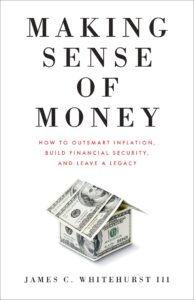 ARE YOU GOOD WITH MONEY?
The average American is not good with money. Most of us spend rather than save, accumulate too much debt, and make decisions from habit and "common sense" rather than logic and financial literacy.
Reality check: If you don't manage your funds, prioritize savings, and invest to outpace the rate of inflation, you are effectively losing money—and with it, financial security for you and your family.
In Making Sense of Money: How to Outsmart Inflation, Build Financial Security, and Leave a Legacy, second-generation family business owner Jim Whitehurst helps you rethink money management from the ground up. With practical advice designed to instill the confidence to make meaningful changes, Making Sense of Money provides a springboard for financial action.
If you're ready to become a better steward of your money so you can cultivate wealth and expand your opportunities, this book is for you.
Available online at Amazon, Barnes and Noble, IndieBound, and other retailers.
---
Moneyless Society by Matthew Holten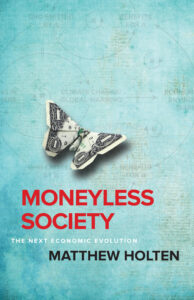 IT'S TIME FOR AN ECONOMIC EVOLUTION.
The evidence is all around us: Humans are squandering natural resources and destroying the environment. There is no real debate about climate change. And with an ever-widening wealth gap, inequality is destabilizing many regions and worsening famine, disease, and civil unrest.
We must change, fast—and yet we hesitate.
Moneyless Society: The Next Economic Evolution explores how capitalism throttles Earth's capacity to sustain life and undermines our deep longing to live in peace and prosperity. Fortunately, it also provides a blueprint for innovative thinking and new structures to replace our outmoded monetary system. In short, Moneyless Society illuminates just how much our lives and those of future generations could improve with a new kind of freedom: freedom from money.
We are at a crossroads: we can choose abundance, community, and prosperity, or we can continue down the path toward collapse. The choice is ours.
Available online at Amazon, Barnes and Noble, IndieBound, and other retailers.
---