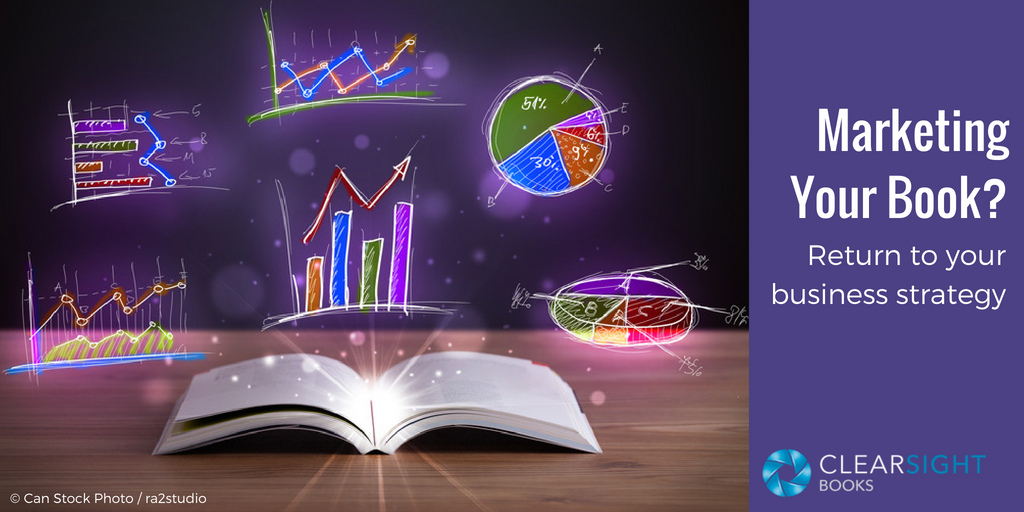 Grow your social media following. Give away free copies. Become a guest blogger.
The number of possible book marketing tactics is overwhelming. Online articles can convince you to pursue tactics that ultimately don't support your business goals or strategy.
Take a step back and think about what marketing is intended to do. Marketing helps:
make you visible to your audience,
make you attractive to your audience as someone who offers what they need, and
make people feel safe enough to purchase what you offer—or at least to take the next step in the process.
With that in mind, as you begin to consider book marketing, go back to your business strategy and ask these four questions:
What is your goal?
Who is your real audience?
Where can your marketing reach them?
What do they need to feel safe to proceed?
When you're clear on your answers, it becomes more obvious where to target your marketing investment of time, money, and energy.
Let's look at three case studies that show how your book marketing plan might align with your broader business goals.
Case study 1: Indie author
Kamala writes nonfiction books in several categories, and makes about five dollars per book. She wants to develop an income from book sales, so her goal is to build scale. Her broad, popular topics give her a large potential audience that spends a lot of time online browsing personal development books.
Overall Kamala's plan is to introduce readers to her work in a low-risk fashion—that is, for free or at very low cost. She expects the readers who enjoy her work will purchase other books; if they find one of her later books, she knows they are likely to go back to earlier ones.
Kamala develops a strong online presence. She works to grow her email list and social media following. She collaborates with other indie authors and reviewers to guest blog, participate in podcasts, and leverage each other's mailing lists. And she uses Kindle's free book promotions; to gain visibility for them, she advertises on BookBub and similar promotional sites.
Case study 2: Professional speaker
A typical speaking engagement earns Blaine $2000 to $5000; his goal is to get more engagements at a higher fee. More than one conference producer has said he needs a book to make it onto the main stage. While Blaine's book may interest his listeners, his real audience includes conference planners and others who decide which speakers to hire—people focused on vetting proposals, not browsing for speakers (or books) online.
Blaine's plan is to use his book as a marketing tool. His book is prominent on his website and in his marketing materials, and he includes a copy in speaking proposals. He also offers several speaking packages, some of which include ebooks or print copies for attendees. When Blaine has a chance to sell books at an event, he takes it, but book sales are gravy on top of his speaking fees.
Similar to Kamala, Blaine continues to build his email list, guest blogs, and speaks on podcasts. He maintains a social media presence without expending much energy on follower growth. In contrast to Kamala, Blaine does not advertise on discount book sites—that's not how his decision-making clients find him.
Case study 3: Consultant
Margaret consults for large corporations; her engagements start around $25,000. Her goal is to obtain the same volume of engagements but at a higher fee. Margaret's business comes primarily from personal referrals and direct contact from executives who read about her in the media. While prospects may take a cursory look at her website, they are more likely to trust recommendations from peers.
Margaret's plan is to use her book to build authority. She did a big media push when she first launched her book, and she sends copies to CEOs of prospect companies. She also gives her book to clients and encourages them to share it with peers who could use her expertise. Margaret also considers her book a filtering mechanism: anyone who reads it and wants to do business with her is likely to be a good fit.
Margaret further develops her reputation by publishing articles in well-known online business magazines. While she maintains a presence on social media, she spends little energy worrying about book sales or free downloads—that's just not how her clients find her or what makes them trust her.
What book marketing strategy works for you?
I can't say it often enough—alignment is critical. To get the results you want, align your book and your marketing plan to your overarching business strategy and goals. And don't get distracted by all the possible tactics.
What's your goal? Who's your real audience? Where do they hang out? What do they need to feel safe to purchase from you?
Focus and invest there.