Welcome to guest blogger Becky Sansbury, author of After the Shock: Getting You Back on the Road to Resilience When Crisis Hits You Head On. Becky and I worked together for many months on her book. I can assure you she draws on deep personal and professional experience when she talks about crisis and resilience. Some of her stories had me in tears, and her vulnerability, self-awareness, and wisdom amazed me. (Seriously, get her book!)
I was tickled to death when I heard the story Becky tells below. It reinforced for me the value of shaping ideas in a way that helps people understand and embrace them.
---
At the 2016 Ronald McDonald House Charities Conference of the Americas, I presented my core concepts on crisis and resilience. As any public speakers out there know, resilience is handy when dealing with the technical crises that sometimes accompany being on stage, so I was relieved to finish and be able to relax while listening to the closing keynote speaker.
As Dan Roam began to present a synopsis of his approach to using simple visuals for solving problems and explaining ideas, I perked up again.
Visuals Help Ideas Stick
Dan is probably best known for his New York Times bestselling book The Back of the Napkin, which begins his book series on visuals and thought processes.
A few of his points really resonated with me:
The human brain is wired to think in pictures faster and more easily than in words. Visuals transcend jargon, vocabulary, and regional colloquialisms.
We do best when we think in process, and visuals help us to think in process.
When visuals and simple words come into alignment, people can grasp complex ideas and implant them in their brain much faster and more easily.
(Side-note: It's not the quality of the visuals that counts. Flashy visuals can be a nice bonus, but if lack of flashiness stops us from using visuals, we're making a mistake. It's better to draw stick figures or simple symbols than to delay using visuals in order to get something prettier.)
Real Life Application
As I listened to Dan, I quickly realized that the visual metaphor created for my book, After the Shock, was exactly in alignment with what he was describing.
Using a visual metaphor was a deliberate choice for us.
In After the Shock, I used seven parts of a car to align with the seven parts of my resilience-building model: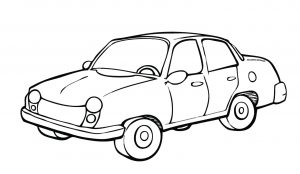 The Four Cs of Stability – Comfort, Control, Community, and Connection to something bigger than self are aptly described by the four tires of the car.
The E-A-R Road to Resilience – In this process, our frame of Experience ties neatly to the frame of the car; our Assumptions guide us towards our goal in life, just as the steering component of the car steers us to our destination; and the way we find, use, and seek out new Resources following a crisis fits with the fuel that goes into the car.
If you've ever been in crisis, you realize how difficult it can be to understand what someone is saying to you, let alone how impossible it can be to process complex information. As Karin and I worked on this book, we intentionally designed it in bite-sized pieces that could be easily digested for someone in that frame of mind. Using a visual metaphor was a deliberate choice for us.
Real Life Feedback
I had an opportunity to talk to Dan after his keynote ended and told him how awed I was by his presentation. It captured the audience's attention beautifully, not only with his words, but also with the very visuals he described. I added that I was delighted that the metaphor and visuals I had chosen for After the Shock were exactly in line with the approach he'd just spent the last sixty minutes describing.
"I will remember this model because you made it so clear. Thanks!" —Dan Roam, author of The Back of the Napkin
He paused and said, "If you can describe your process to me and the visuals connected to it in two minutes or less, I'm all yours."
It didn't take anywhere close to the full two minutes to go through those seven parts of the car that corresponded to the seven parts of the resilience-building model.
Dan smiled, shook my hand, and said, "I will remember this model because you made it so clear. Thanks!"
To me, that was a valuable endorsement by someone who, yes, has sold millions of books worldwide, but more importantly, has spent many years determining how visuals help readers and listeners gain a quicker grasp of any process or model.
To your resilient best,
Becky
---
You can find Becky's book on Amazon and learn more about her services at her website.