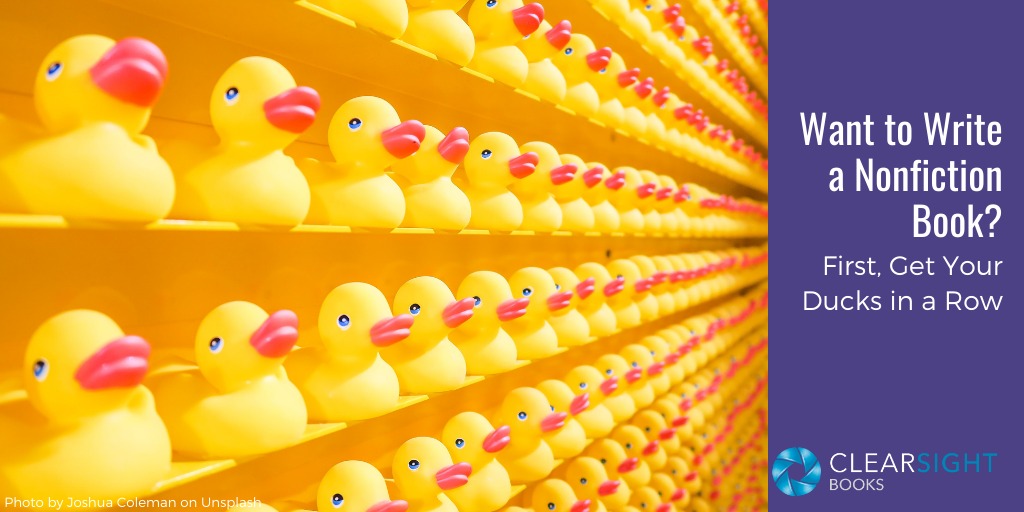 On a recent call with my mastermind group, we were talking about the value of writing a book to support your business, and one member said, "Writing a book seems like a good idea, but I have absolutely no idea where to start!"
I hear this a lot.
How to begin writing a nonfiction book? In many respects, writing a book is no different from writing a blog post—many of the same principles apply. On the other hand, a book is on a whole different scale, so if you're going to put in the hours it takes, you'd better be sure it will lead you where you want to go.
Three Elements to Align Up Front: Purpose, Audience & Subject
Three critical elements must be aligned as you begin your writing: purpose, audience, and subject matter.
Purpose – What is your goal or objective for your book? What do you want it to do for you? Position you as an authority? Help grow your business? Leave a legacy? Be a bestseller and make loads of money?
Audience – Who are you trying to reach, and what do you want them to do as a result of reading your book? Do you want industry leaders to invite you to expert forums? Are you trying to reach the C-suite to sell high-end consulting? Do you want to share family history with your grandchildren so they understand what is important to you?
Subject – What do you want to write about? What topic do you own? Where's your expertise? Or, what do you want to research and explore?
You can think about these elements in any order—one or two are often obvious right away. Figuring out how all three fit together might take a few rounds of ideation, but in the end they all need to line up.
Let's look at three sneakily disguised examples to see what alignment looks like.
Example 1: I Know My Subject
George has a tomato breeding hobby and would love to write a book about his approach and the results he's achieved (subject).
Not so aligned: George works as a plant scientist and would love to be better known as a tomato expert (purpose), but his company does not work on tomatoes. While his colleagues might appreciate the science (and the free tomatoes all summer), it's unclear what action he would want them to take as the audience.
Aligned: George moderates and participates in several online gardening forums. If his purpose is to further establish himself as a go-to resource for all things tomato, other tomato breeders and home gardeners who want to understand the science of what they are doing make a better audience for George.
Example 2: I Know My Goal
Johan wants to leave a legacy by telling his rags-to-riches story.
Aligned: The obvious form (subject) for telling a personal story is memoir. If Johan's audience is primarily his family, friends, and close colleagues, then memoir is a good choice.
Also aligned: If, however, Johan wants to reach a broader business audience, memoir is less attractive. For a business audience, it can be more effective to turn personal stories into a book of lessons or principles (subject) about how to create your own rags-to-riches story. (Remember, the audience wants to know WIIFM—what's in it for ME?)
Example 3: I Know My Audience
Leila is an accountant and consultant who is constantly educating her clients on the basics of business financial management.
Not so aligned: Leila knows QuickBooks inside and out and could write a 500-page book on the subject. However, if her goal (purpose) is to reduce time educating clients who don't understand the basics of business finance, that's probably jumping too far into the weeds to be useful for them.
Aligned: Instead, Leila decides to teach the foundational pieces of business finance and focus on helping people know how to ask the right questions and when to get help (subject). Not only does this subject reduce the time she spends educating clients, it positions her as an expert, which may attract more clients, and it positions her to develop online training modules on the same topic (purpose).
Ready to Begin Writing a Nonfiction Book?
If you're puzzled how to begin writing your nonfiction book, do some brainstorming:
What potential subjects could you write about? Where do you have interest or expertise? (Note: If determining your subject is a struggle, you might be doing emergent writing that calls for a discovery draft before you can identify your audience and purpose.)
Which audiences might you write for? Do you have a business you are trying to grow? Who are the decision makers that can hire you? Who are the industry professionals you want to connect with?
Ultimately, what's your endgame for the book? What's your purpose in writing it?
Which combination of audience, purpose, and subject aligns? Does that book idea excite you enough to spend a few hundred hours on it?
Yes? Then it's time to write!
---
Clarifying these elements is my first order of work with new clients. Give it a shot yourself, and if you need help, I'm here. Get in touch at karin@clearsightbooks.com or 919.609.2817.
Related Posts