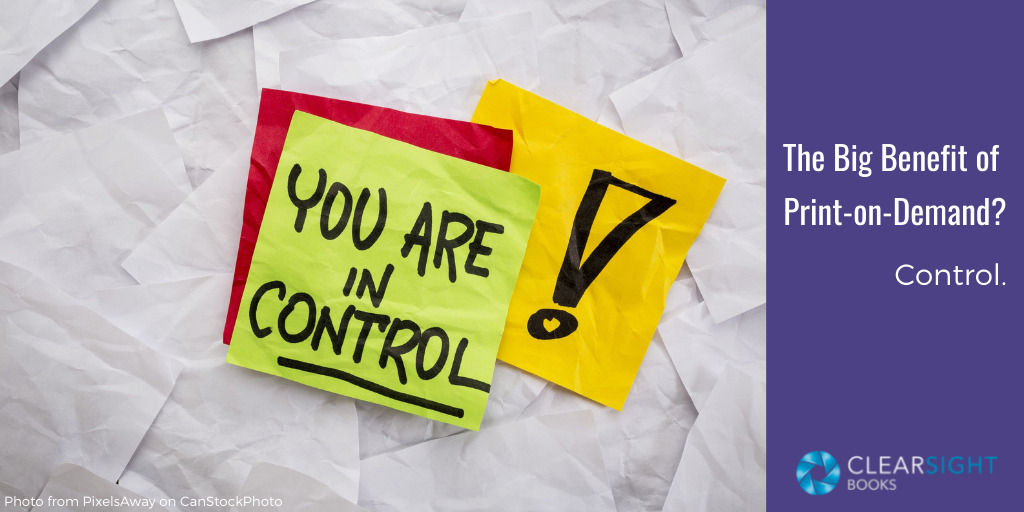 Originally published May 6, 2016; updated March 1, 2022.
Print-on-demand (POD) technology is one of the wonders of the modern world (along with crunchy Cheetos and Netflix). Rather than having to print thousands of copies of a book to achieve any efficiency of scale, POD allows authors and publishers to use digital technology to print only as many copies of books as are ordered—when they are ordered.
Two major POD service providers are Amazon's Kindle Direct Printing (KDP) and IngramSpark (IS).
How POD works
So how does print-on-demand actually work from an author's perspective? Here's the nutshell explanation:
You prep and upload your book's interior and cover files to the POD platform you are using (KDP, IS, or others).
Once you press the "publish" button, the POD platform sends the data about your book to various retail outlets (Amazon, Barnes and Noble, IndieBound and so on) so your book can be available for sale.
When a customer orders a book on a retail site, their order is sent to the POD platform.
At that point in time, the POD platform prints and constructs your book and ships it to the customer.
You, the author, get paid for the sale. The calculation for the "royalty" you receive is retail price minus a percentage to the retailer minus print costs. (For more on royalties, read "KDP vs. IngramSpark: Which Publishing Platform Is Right for You?")
Notice that since books are printed only when ordered, you don't have to invest in a print run and hold inventory (your garage thanks you). In addition, consider these three other great things about print-on-demand…
1. You can fix the "Oops"
To use print-on-demand technology, you simply upload the files for your book—a cover and an interior. If you find a mistake, you can correct the document and re-upload it. The next time the book is printed (i.e., ordered), the corrected file is used. No more Oops.
2. You can add the "Oh yeah, I forgot"
As a savvy author, you used beta readers to point out problems or gaps in your manuscript. But that's still a limited pool of readers; after publication, new readers may point out missing elements—or you yourself may remember something you want to add. Print-on-demand gives you the opportunity to make those additions.
(Note: If you add pages, double-check your cover size calculations; you may need to adjust the spine width. If you add many pages, ask yourself if the revision should be saved for a second edition.)
3. You can create a "Just for you"
With print-on-demand you can do more than make corrections; you can offer customization. If you sell your book in bulk to organizations, you can offer them the opportunity to have the CEO write an introductory page. Or you can customize the cover with their corporate logo.
On IngramSpark there is an option to insert a page in a book for just this purpose. Or you can, in essence, copy your files, make the changes, and upload a "new" book. But you don't have to make the new book available for sale; keep it hidden so you are the only one with access to order it. (IS's two-step process is also covered in this article.)
For many authors, one of the biggest benefits of print-on-demand technology is you are in control.