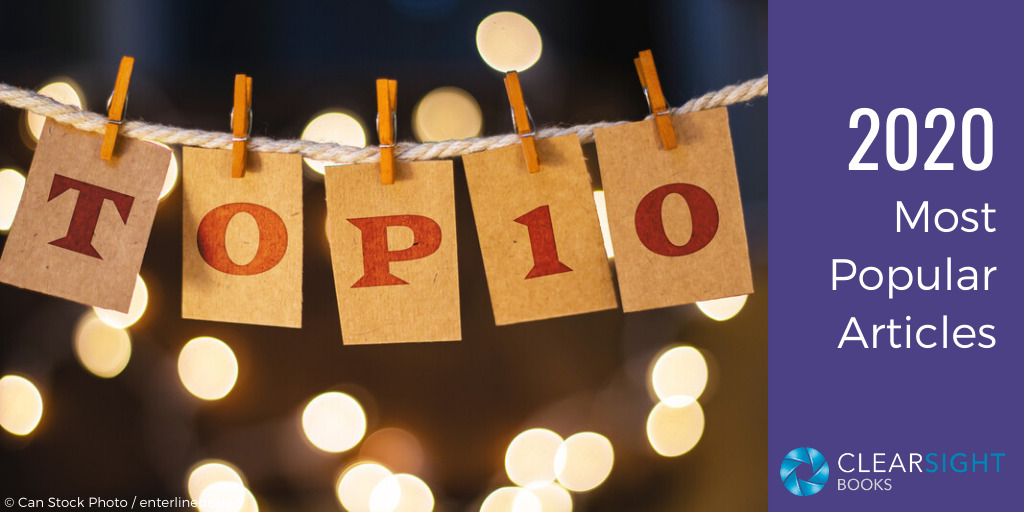 In case you missed them the first time around, you might like to take a look at Clear Sight Books' top 10 blog posts in 2020 (by page views).
In looking at 2020, I noticed a few things.
Observation #1: People are writing books.
My web traffic was up almost 150%. As much as I'd like to attribute this to my brilliant writing (heh), I suspect it is more related to people in pandemic shutdown trying to make good use of their time.
Observation #2: People are writing nonfiction books.
The most popular article by far, drawing over one-third of all my traffic, is How Long Should Your Nonfiction Book Be? Interestingly, in 2019 this article drew nearly half my traffic; I believe that proportion shrank due to…
Observation #3: People need help figuring out self-publishing logistics.
Almost another third of my website traffic was from articles related to self-publishing platforms and logistics. The article comparing the KDP and IngramSpark platforms had an astonishing 2700% increase in page views (and it was published in February 2019, so almost a full year of data for comparison). The article on printing options also had an increase in page views of 360%.
I started opening comments on articles last year after resisting it for a long time (managing spam is a hassle). The only articles I get comments on are the articles on publishing logistics. Even with the amount of detail in the posts, the article on ISBNs currently has 40 comments with even more detail, and the article about which platform to use is up to 24 comments. Additionally, I get numerous emails each month with questions on these topics.
If I look at the collective story, this seems to indicate that there is a lot of confusion about the self-publishing platforms and not a lot of solid, detailed advice available. (IngramSpark's platform support is especially bad IMO.)
If you have questions on publishing logistics (platform, ISBN, etc.), I encourage you to read the articles in the list above (and the comments!). If you still have questions, email me at karin@clearsightbooks.com. I will do my best to point you in the right direction and update or add to the articles. (And if messing with logistics isn't your flavor of bubblegum, yes, I'm available for publishing projects.)