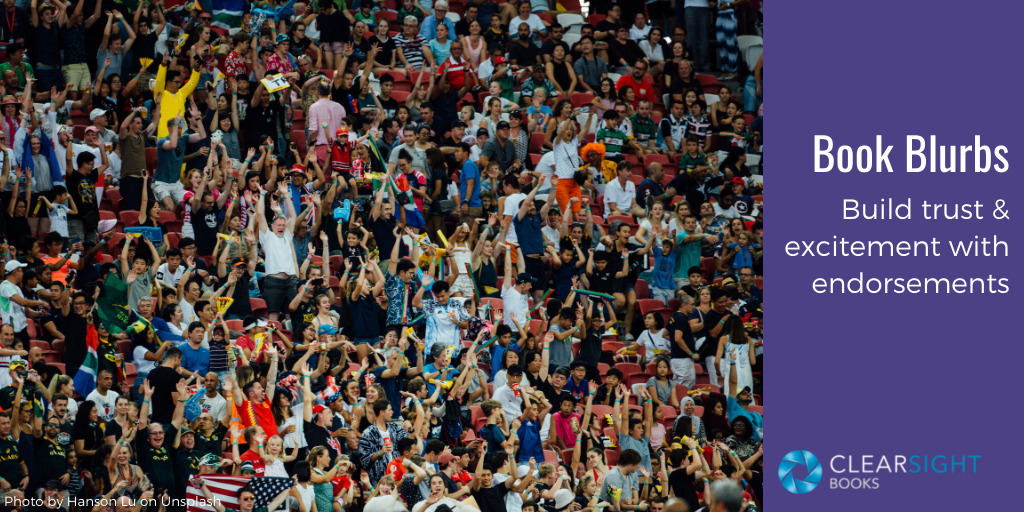 Good reviews are a form of social proof—they demonstrate that people like, appreciate, or respect your book and would encourage others to read it. In other words, they increase potential buyers' comfort level with purchasing the book.
Book endorsements are similar to reviews in that they offer social proof, but while reviews can come from anyone after the book is published, endorsements are usually acquired before publication and are solicited from "recognizable" or "important" people, thus upping the trust factor.
Endorsements are sometimes called "blurbs," so "blurbing someone's book" means writing an endorsement. (This use of the word blurb shouldn't be confused with its other book-related meaning, which is the short book description such as the one found on the back of a book.)
In this article we cover some of the practical points for requesting endorsements. We're focusing on nonfiction, but most of the principles hold for fiction as well.
Who to ask for an endorsement
Since the idea is to enhance the readers' trust, in nonfiction there are some common categories to consider:
Famous names – "Dream" endorsements might include actors, business leaders, or athletes. If you can get Oprah, woot!
Prominent people in the field – More likely you want to pursue people who are known within the field you are writing about.
Notable authors in the same genre – Endorsements from authors whose books your ideal audience have likely read provide built-in trust on multiple levels.
High-level people at known organizations – Blurbs from directors, founders, or the C-suite from recognizable companies can add cachet.
People already influencing your audience – One of the fastest ways to access a new audience is through someone already talking to them. For example, someone with a podcast aimed at your ideal audience might be a good endorser, especially if you also go on as a guest to talk about your book.
As you make a list of possible endorsers, you will know some and not know others, but you may know more than you realize. Think about your clients as possible endorsers; for example, if you are a consultant, you may have business owners you work with who can attest to the value of what you provide as a consultant and author. Think also of colleagues and other professional acquaintances from networking or volunteer activities.
For people you don't know, identify connections to them. Who do you know who knows them? Check your LinkedIn connections for possibilities. As with most requests, a warm approach tends to succeed more easily than a cold one.
Regardless of whether you know someone, do your research so you can say why you think your book is a good fit for them to endorse.
How to ask for an endorsement
I suggest thinking about getting endorsements as a two-step process: your initial request for endorsement and then providing endorsers the material required to write an endorsement. However, the two steps can be combined, especially if you are reaching out to people you don't know and want to provide everything they need up front. Adapt these guidelines to your own style, situation, and purpose.
Initial Request
Your initial communication is to request an endorsement and provide the information the recipient needs to decide. While this request may be via email, think of it as a business letter. It's fine to let your personality show, but observe the niceties of "Dear," "Sincerely," "Thank you," and professional language.
Include the following:
Introduction. Introduce yourself if you are new to the person. Reference any shared connections who recommended you contact them. Let them know that you are requesting a book endorsement.
Book info. Give a brief description of the book (maybe a paragraph or two) and include information about yourself (credentials, etc.).
Why to endorse. Tell them why you think endorsing your book is a good fit for them—demonstrate your familiarity with their work. If possible, mention how the endorsement will be used (cover, interior, etc.).
Logistics. Let them know when the manuscript will be available and what the turnaround time is. Ask what form they would like the manuscript in (Word, PDF, hard copy, etc.).
If you do everything in one step rather than two, include the endorsement package (next) as well.
Endorsement Package
A full package of material for endorsers includes the following:
Cover image. Make sure it is good—first impressions…
Table of contents. Demonstrates the focus and breadth of the book.
Synopsis. A one-page overview of your book.
A copy of the manuscript in the form they requested. There's no doubt electronic versions (e.g., PDF) are the easiest, but you could also send a paper version. If you have a long enough lead time, you can even have an advance reader copy (ARC) so they are reading an actual book. If you are combining everything into one step, you could provide sample chapters instead of the full manuscript.
Sample endorsements. Give samples of the types of comments that would help support the book in the way you want; some people may simply model their comment on one that you provide. Also share endorsements that you've already received—not only do they provide examples but they also serve as social proof for the person receiving the request, which can help raise their comfort level in endorsing your book.
For people you don't know, the full package is ideal, but if you have a closer relationship with an endorser, the manuscript and sample endorsements may be enough. Use your judgment.
Timing
It's standard to give four to eight weeks for endorsements. Most people don't just have a lot of free time set aside for reading random books that show up, so if you use a one-step process, you'll probably need that long. If you use a two-step process, you may be able to get on people's calendars far enough in advance that they can work with a shorter turnaround time.
Lead time and turnaround time can also vary depending on the length of your manuscript and the closeness of your relationship with the endorser. That is, the shorter the book and the better you know someone, the more likely you can get a quick turnaround. In working with authors who are self-publishing, I often see them have two to three weeks as the turnaround time.
You will likely need to follow up with those who agreed to endorse your book, maybe one or two weeks before the deadline. Be polite and grateful in the process.
Again, use your judgment on what works for your book and your endorsers. Whatever process you use, be sure to identify when everything must be done for the cover, interior, marketing, etc. and back up your timing from there.
What if they say no?
When you make your list of people to approach for endorsements, anticipate that half of them will not provide an endorsement.
Some people will simply say no up front. They don't have time, or they get asked so frequently that they couldn't possibly honor all the requests. Others may only endorse books if they know the author. If someone says no, don't take it personally. And a no is better than no response…
Sometimes people tentatively agree to write an endorsement but then read the book and say no. Again, don't take it personally. Unless they say something that sends up big red flags (e.g., about egregious errors), think of the process like trying on shoes—sometimes those sandals look cute on display but just don't fit your feet. There's no need to press anyone for an explanation of why they declined to endorse your book—it just didn't fit them.
And some people have good intentions, but life is busy and they simply don't follow through. By asking for more endorsements than you need, you'll still be in good shape.
How to use endorsements
There are numerous places you can use endorsements.
Back cover – One of the most common places for blurbs is the back cover. For paperbacks there is often a description at the top and a brief author bio at the bottom. There is usually space for an endorsement in between. On a hardcover dust jacket, it's not uncommon to have the entire back cover be filled with endorsements.
Front cover – If you get a really good blurb from a really big name, consider putting it on the front cover. Bling bling.
Inside of book – If you get numerous endorsements, choose the best for the cover, and put the rest on the first few pages of the book, before the title page or immediately after it. (Tip: For an ebook, move these blurbs to the back so when potential readers click to see sample text they don't get only endorsements.)
Product page – When self-publishing, you can include endorsements in your metadata, which is especially useful if something comes in too late to be included in the published book. When setting up your book in IngramSpark, there is a field for editorial reviews. For KDP, the equivalent field is not in the KDP book metadata but rather in the information held in Author Central.
Online – Of course book blurbs can be shared online—on your website, social media, newsletter, and so on.
Whatever you do, don't let endorsements go to waste!
How long should endorsements be? Can you edit them?
For most endorsements, several sentences or a paragraph is enough. And shorter (one to two sentences) is fine, especially if they pack a punch. In the sample endorsements you include with your request package, you can model the length you are looking for.
If someone gives you a lengthy statement, you may only want a sentence or two for design reasons, space reasons, or just because that sentence is the most unique. It's fine to take an excerpt as long as you aren't changing their words or eliding phrases to change the meaning.
It's also fine to edit for things like consistent punctuation (hello, Oxford comma) and spelling (OK vs. okay), but again, do not edit to change the meaning or take anything out of context.
Sometimes what endorsers give you is just not quite usable—it might have the right idea but be wordy or disjointed. If you need to do more material edits, go ahead, but again do not change the meaning. And be sure to run the revised blurb by the endorser. In my experience people who write blurbs want to look good too; I've never had them object to revisions that maintain their opinions but state them more concisely or eloquently.
Don't forget to say thanks!
Once your book comes out, be sure to send each endorser a thank-you note and a signed copy. Then, at least for a moment, sit back and enjoy their kind words.
---
Want to improve your chances of getting notable endorsements? Make sure you have a strong manuscript. If you think I might be a good fit for your project, my editing schedule usually has a waiting list of several months, so contact me as soon as feasible at karin@clearsightbooks.com.
Related articles: