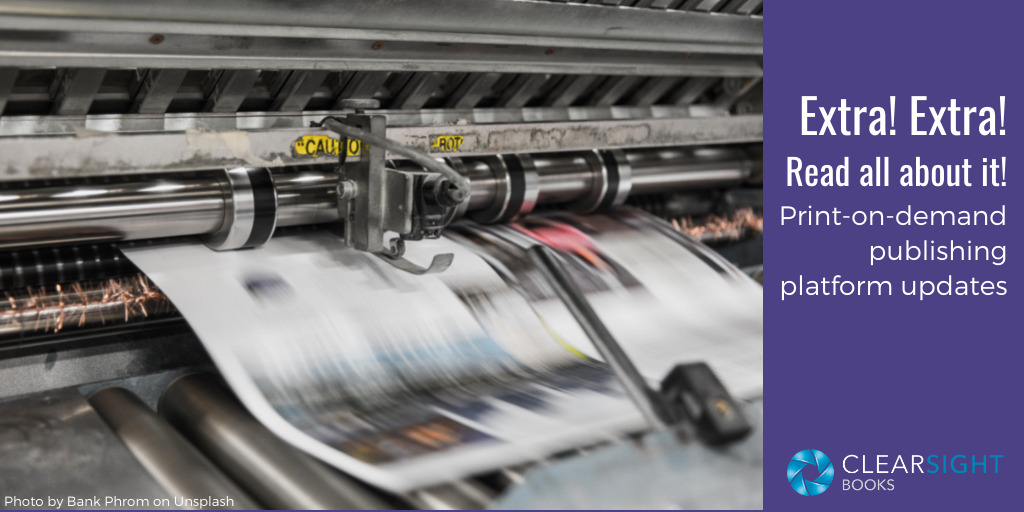 There have been some recent changes with the two major print-on-demand (POD) platforms, KDP and IngramSpark, and I've been updating my articles related to them. Here I give a summary of changes and then links to the articles.
Publishing platform changes to be aware of
Here are some of the major changes you might want to know about:
Supply chain issues—order books now. The supply chain has been a problem across industries lately, and publishing is no exception. If you need author copies for the holidays, order ASAP. Some orders are taking weeks to get through the print queue, and then there's shipping time.
Workaround: Order your books retail. The POD platforms prioritize retail orders over author orders. You aren't paying quite the retail price (because you'll get some royalties later), you'll possibly get your books faster, and you may actually save on shipping.
NEW! KDP adds hardbacks. Until just recently, IngramSpark was the only real choice for POD hardback books. KDP has now added hardbacks, with limited options—only casebound (no dust jackets) and only five trim sizes. I have not seen KDP's hardbacks yet, but preliminary feedback that I've read online sounds good.
IngramSpark prices went up. IngramSpark print costs have gone up (it's possible some options went down, but I haven't found any yet). If you use IS, you should have received emails about this change, but be sure you've checked your pricing and that it supports the new cost.
IngramSpark service has gotten worse. There's just no way around it—IngramSpark's service has never been great, and now it's even worse.
In the US, the only customer service option is via email. They have disabled the live chat and are not taking phone calls. (Seriously.) Response time is supposed to be a day, but has dragged on long enough that I've had to follow up to get a response.
When you upload files, there is an automated review that is immediate, and then there is a live-person review. The live-person review time has lengthened and is unpredictable. I have had to email about new books and updated files to find out what the problem was (nothing—they were just slow).
The print queue is a gamble. IS has disabled their Rush and Express print options; those options cost more per book than the standard option but are handy if you have a tight timeline. Paperbacks are currently listed as taking 10 business days to print and hardbacks are listed as 15. (And that's business days, not calendar days.) Overall the order process is extraordinarily unpredictable. A client and I ordered the exact same thing on the same day: I got my books in a week and his are still in the print queue three weeks later…
In a nutshell: If you use IngramSpark, plan on things taking way longer than you expect. If you are lucky they will go faster, but work well in advance of your launch date. (This applies to KDP to an extent as well, but credit where credit is due—Amazon knows something about efficiency…)
Updated articles
There are always publishing platform changes taking place. I try to keep my core articles updated. Here are the ones I've updated recently:
If you run into questions beyond what these articles cover, get in touch!