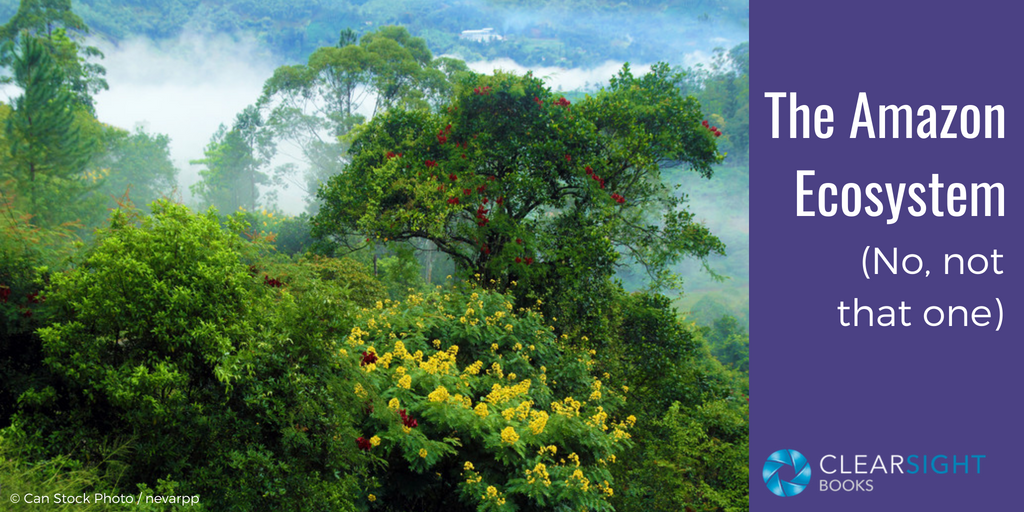 Originally published August 16, 2018; most recently updated September 22, 2023.
With an estimated half of the US print book market and three-quarters of the ebook market, Amazon is the behemoth in the indie book space. There are other self-publishing companies of course, but I so frequently get questions about Amazon that I thought it might be helpful to give an overview of the Amazon ecosystem.
Amazon offers two services to produce your book—Kindle Direct Publishing for ebooks and print books and ACX for audiobooks—and two services for supporting your book—Author Central and Goodreads.
(Note: Until 2018, Amazon's print arm was CreateSpace and ebook arm was KDP; Amazon merged CreateSpace and KDP in 2018, so KDP now produces both ebooks and print books. When reading about self-publishing, if you see references to CreateSpace, you can probably mentally substitute "KDP.")
KDP for paperbacks
Kindle Direct Publishing (KDP) offers print-on-demand (POD) publishing, which means books are printed only when they are ordered. This approach typically means the per-book cost is higher than it would be for a traditional large print run, but the benefit of POD is that you don't have to do a large run and then hold inventory.
How it works
You format your book interior and your book cover in whatever tool appropriate, save them as PDF files, and upload them.
You enter the appropriate metadata (description, categories, keywords).
You set your own pricing and choose distribution channels (Amazon only, or expanded distribution as well).
When a customer orders your book from Amazon.com, a single copy of the book is printed and shipped to them.
You (the author) can also order directly from KDP, basically at cost. This is useful for keeping a supply on hand to sell or give away and for bulk orders.
Helpful to know
Until 2021 KDP printed only paperbacks; in 2021 they introduced hardbacks, with a limited set of trim sizes and options.
Before approving your book for sale, you can order a proof copy. If you find errors or the cover color is off, you can upload new files and get a new proof. In fact you can upload a new file at any point for no charge (though it may take a day or two to cycle through and become available).
You also can change metadata at any time (description, categories, keywords) if you think it will improve SEO and sales. For example, choosing better keywords can help make your book more discoverable; adjusting your book description might make your book more appealing to potential purchasers.
KDP offers free ISBNs. When you use this option, the publisher shows as "Independently published." If you purchase your own ISBN, you can have your own company as your publisher. I generally recommend against using KDP's free ISBNs; I prefer to maintain control for branding purposes. Read more about ISBNs here.
I find KDP's print quality to be good and consistent. Of course occasionally there can be issues, depending on the facility, printer, toner cartridge, color of socks the technician is wearing… If you get a book with poor quality, ask for a replacement.
When ordering proof copies, my experience is that KDP is super fast getting them to you. When ordering author copies, allow 2-3 weeks, because they prioritize printing for retail sales above printing for authors.
Overall, I find KDP easy to use and an economical option for indie authors.
KDP for Kindle ebooks
Kindle Direct Publishing (KDP) also is the platform for publishing Kindle ebooks.
How it works
You format your book according to KDP's specs. Their preferred formats are Word, EPUB, or KPF, which is generated from their Kindle Create tool, but other formats are accepted as well. Note that the MOBI format that used to be the Kindle standard is no longer the standard. EPUB is the industry standard, so it will probably be your best bet if you are using multiple ebook platforms.
You upload your book interior and cover (JPG or TIFF of front cover only) to KDP.
You enter the appropriate metadata (description, categories, keywords).
You set your own pricing.
There is only one distribution channel for Kindle ebooks: Amazon.
When a customer orders your book from Amazon, a copy of the book is sent to their Kindle device or Kindle app.
Helpful to know
Before approving your book for sale, you can view the book in the online previewer (or you can download a previewer). If you find errors, you can make changes and upload a new file. As with paperbacks, you can upload a new file at any point for no charge. However, if you upload new files, customers who already have the ebook will not get the new files unless you specifically ask KDP/Amazon to push them out, which I do not recommend unless it is absolutely critical, because readers will lose any notes they've taken.
You also can change metadata at any time (description, categories, keywords) if you think it will improve SEO and sales.
It is not required to have an ISBN for an ebook; KDP will assign an ASIN (Amazon Standard Identification Number). However, as a best practice, I generally recommend getting an ISBN for each format of your book. Read more about ISBNs.
KDP Select
KDP Select is a program that lets authors offer Kindle promotions. You must sign up for 90 days at a time and you must agree that your ebook is exclusive to KDP during that time.
During that 90 days you get:
Free Book Promotions – Five days where you can give your Kindle book away. The days can be used all at once, or one at a time. At launch, free days can increase the volume of downloads thus improving your book's sales rank. They're also good for reader/client appreciation events (e.g., holidays) or for large events where you want to enhance your visibility (e.g., speaking engagements, conferences).
Kindle Countdown Deals – You can promote a lower price for a limited period of time. Customers see the original price, the promotional price, and a countdown clock.
Inclusion in Kindle Unlimited (ebook subscription service); you get compensated based on pages read.
Increased royalties in certain countries.
KDP Select automatically renews every 90 days. If you decide you want to expand platforms (say to Draft2Digital), be sure to decline renewal.
Should you enroll in KDP Select? If you are a new author with only one book and a limited platform, it probably doesn't hurt. The benefits may increase your visibility (if you use them).
If you do have a marketing platform, e.g., a lot of followers on social media, and you want to get your ebook on as many ebook readers as possible for them, KDP Select may not be a good choice. If you enroll and then distribute your book elsewhere, you violate the KDP terms of service and risk getting kicked off the service.
However, the exclusivity is only 90 days, so if you enroll and then change your mind, you can get out within a short amount of time. Just be sure to turn off the automatic renewal.
Audiobook Creation Exchange (ACX)
ACX is the platform for indie authors to publish audiobooks; it is a subsidiary of Audible, also owned by Amazon. Audiobooks are the fastest growing segment of digital publishing. Even if you're not an audiobook listener, your readers may be.
I have virtually no experience here, so I won't get into much detail…
How it works
If you have a lovely, resonant voice and understand the technology well enough to record a book yourself, have at it. (Try a walk-in closet and a good microphone.)
Otherwise, I'd consider a voiceover artist (available via ACX). To give you a ballpark, you can expect to pay $200-400 per finished hour. (Somewhere around 9000-10,000 words takes one hour. And there are 2-4 hours of work that go into each finished hour.) A standard length book may run $1500-$3500.
Upload the files, and set your pricing and metadata, similar to KDP.
Helpful to know
Just as print books and ebooks have standards and tips and tricks for creating them, audiobooks have their technical standards and requirements. Be sure to check out ACX's detailed specifications.
Since I am not an audiobook expert, let me refer you to someone who is: my brother-in-law, Jeffrey Kafer. He's a voiceover artist, and also mentors and consults with people interested in doing voiceover work. You can book an hour with him and ask questions to your heart's delight. (And, nope, I'm not getting a kickback—just sending you to someone who knows more than I do.)
Author Central
Author Central is a tool that lets you make one author profile and connect it to all your books that appear on Amazon.
How it works
You set up a profile (similar to many social media platforms).
You search for books you authored to add them to your bibliography.
When customers view your book, they'll see a "Follow the author" button and "About the author" bio. They can also click through to view your profile page.
When you make changes to your profile, they automatically appear in the author section on the pages for all your linked books.
Helpful to know
You can add book endorsements ("blurbs") to your book through Author Central, which then show up in the Editorial Reviews section of your book's product page.

This tool can consolidate sales information as well as book reviews. I haven't used these features, but they might be helpful if you have multiple books.

Some features are available only in the US.
Will populating this site make a difference in sales? To the extent it increases discoverability and helps you connect with readers, possibly.
Goodreads
Goodreads is a social media site for book lovers to connect and offer reviews.
Reviews are a major factor in a customer's purchase decision. They provide social proof that other people liked your book, found it valuable, got the help they were looking for, and found the book to be well written. Reviews on Amazon.com are critical, but Amazon recognized the value of reviews on other platforms, so the company purchased Goodreads in 2013.
How it works
As with other social media platforms, as a reader you set up a profile. Additionally, as an author, you can claim your book and apply for an author profile.
You can search for books and add them to your "shelves" (Read, Want to read, etc.) and write reviews on them.
You can also become "friends" with other users and see their books and book recommendations.
Helpful to know
Your Goodreads author profile is similar to the one on Author Central. You can add a blog (or an RSS feed to an existing one), events, videos, and quotes.
You can also create Giveaways. I don't have experience with these, so please read the terms.
You can connect your Goodreads account to Amazon and other platforms (or not).
Alert: Be sure to check your user account settings to make sure you are not sharing things you would rather keep private.
Should you stick with just the Amazon ecosystem?
While I often advise my clients use both KDP and IngramSpark (the other major POD platform) for their print books, I sometimes suggest new authors stick just with KDP and the Amazon ecosystem. If you have only one book and you're using it to develop your business, keeping the various formats in one place simplifies things while still reaching most of the potential market. Once you have several books in multiple formats and your focus is on selling books, it makes sense to expand the platforms you're on.
But the other thing is ease of use. IngramSpark is much less user-friendly and I find it harder to get customer support. (Why yes, that topic does warrant its own article…)
Finally, think of Amazon as a big search engine, just like Google. From what I read and understand, when you use Amazon's services and stay within the Amazon ecosystem, their search algorithms give you bonus points, making your work more discoverable. Of course that's not the only thing at play, but again, for a single-book author, it's probably useful to a degree.
If you're not sure whether you should stick with just Amazon, read "KDP vs. IngramSpark: Which Publishing Platform Is Right for You?"
---
You are now ready to embark on your Amazon publishing adventure! No? I know all these platforms can be confusing, so if you've still got questions, shoot me an email.