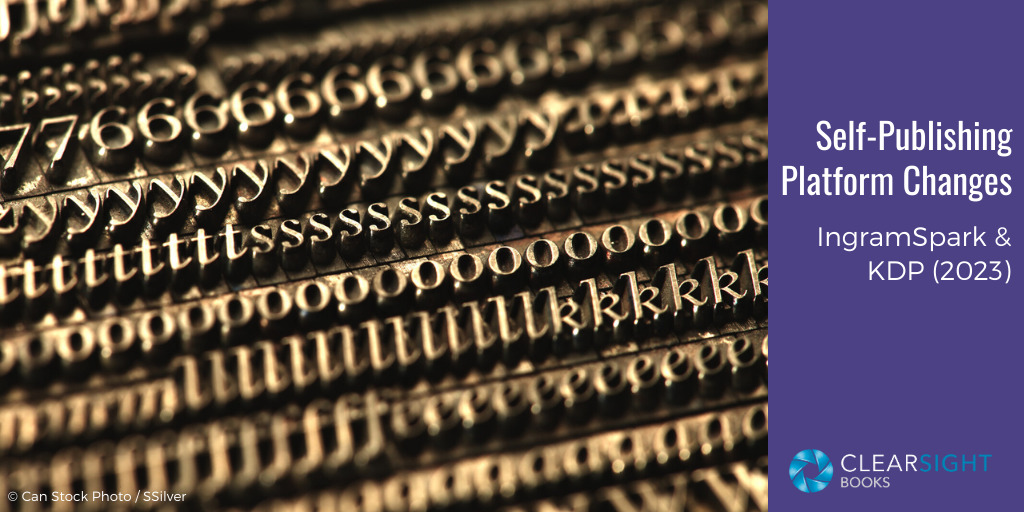 Every once in a while, the two major self-publishing/print-on-demand (POD) platforms, Kindle Direct Publishing and IngramSpark, seem to make a slew of changes. This year has been one of those times, so in this article I simply want to alert you to some of the biggest changes.
Kindle Direct Publishing
Kindle Direct Publishing (KDP) is the self-publishing platform owned by Amazon. There have been three significant changes over the past few months.
Print cost changes
In June 2023, KDP changed some of its print costs. Black-and-white books and large-trim-size books went up in price. Some color options went down.
Most authors will find that their print prices have increased by a small amount. Whether it is enough to consider changing your price is questionable. For most of the books I work on, the cost went up 15 cents per book. If your book is larger than 6×9, the cost may have increased by about 70 cents, in which case you may want to consider adjusting your pricing.
Categories
Categories are the "shelves" your book is found on in a bookstore, such as "memoir," "business management and leadership," or "self-help." On KDP/Amazon, categories are part of the metadata that drives how your book shows up in search results or when customers are browsing.
KDP used to allow you to choose two categories for your book; then you could request additional categories (up to about ten). KDP now allows you to choose three categories, and additional requests are no longer accepted.
You choose categories for your primary marketplace. If you're in the US, that's probably amazon.com; Canada is amazon.ca; Germany is amazon.de; and so on. Once you've chosen the categories for your primary marketplace, KDP will figure out the corresponding categories in other markets.
NOTE: Category choices show up in the language of your primary marketplace. This can make it tricky if you live someplace that does not have an obvious marketplace choice and you don't speak the language of the one closest to you. (Yes, this has happened to at least one client.)
AI disclosure
With the rapid rise of AI tools and flood of poor-quality AI-generated books on Amazon, KDP has added a question to its book setup process. You now must disclose if your book is AI-generated or AI-assisted. From KDP's full content guidelines:
AI-generated: We define AI-generated content as text, images, or translations created by an AI-based tool. If you used an AI-based tool to create the actual content (whether text, images, or translations), it is considered "AI-generated," even if you applied substantial edits afterwards.
AI-assisted: If you created the content yourself, and used AI-based tools to edit, refine, error-check, or otherwise improve that content (whether text or images), then it is considered "AI-assisted" and not "AI-generated." Similarly, if you used an AI-based tool to brainstorm and generate ideas, but ultimately created the text or images yourself, this is also considered "AI-assisted" and not "AI-generated." It is not necessary to inform us of the use of such tools or processes.
You are responsible for verifying that all AI-generated and/or AI-assisted content adheres to all content guidelines, including by complying with all applicable intellectual property rights.
I'd expect more on this front in the coming months and years . . .
IngramSpark
IngramSpark (IS), the other major self-publishing platform, has also made several changes. If you have books already published through IS, pay attention to the first item, wholesale discounts, as it may affect your book's availability.
BIG CHANGE: Wholesale discount % minimum
A quick reminder about how pricing and revenue works with print-on-demand self-publishing:
Retail price
Minus the wholesale "discount" (the amount that goes to the distribution channel)
Minus the printing cost
Equals net revenue (aka profit)
On IS you get to choose the discount you want to offer, generally from a minimum of 30% or 35% up to a max of 55% (it varies based on country). (By contrast, on KDP the discount for Amazon distribution is 40%; if you enable "expanded distribution," the discount is 60%.)
Because brick-and-mortar bookstores have higher overhead than online stores, they look for larger discounts, so if you are trying to sell to them, you should set the discount to 50% or 55%. However, many indie authors are not focused on brick-and-mortar bookstores, so they set the discount to the minimum.
Until recently, the minimum wholesale discount has been 30% in the US. The minimum discount in the US is now 40% (as of August 31, 2023).
Here's what your profit looks like with the old 30% discount (using easy sample numbers):
Retail price = $20
Minus 30% discount = $6
Minus printing cost (estimated) = $4
Net revenue = $10
Here's what your profit looks like with the new 40% minimum discount:
Retail price = $20
Minus 40% discount = $8
Minus printing cost (estimated) = $4
Net revenue = $8
If you want your books to remain available via retail channels in the US, update your discount by October 30, 2023. If your book's discount has not been updated to the new minimum, it may no longer be available in retail channels (but you can still buy copies for yourself).
Setup fees
For a long time, a big complaint about IngramSpark was its setup fees, especially because competitor KDP has never charged comparable fees. To make matters worse, there was no way to get a print proof from IS before you had to "approve" the book—and then they charged revision fees to upload corrected files.
IS has changed its policy so that there are no longer any initial setup fees. When you upload and publish your book, it is free. You can get a print copy, review it, and make any needed revisions to the files during the first 60 days. After 60 days, there is a revision fee of $25.
Market access fee
Of course, presumably to make up for lost revenue on setup fees, there is a new 1% "market access" fee on books distributed through Ingram. (Why do they need a market access fee on top of the distribution cut they already collect? Your guess is as good as mine . . .)
New ultra-premium color
IS has introduced a new "ultra-premium color" option for book interiors. The standard color and premium color options use inkjet color printing; the new ultra-premium color is laser-printed.
In my limited experience with color, IS's inkjet color is somewhat flat, and the ink sinks into the page. This is fine for things like graphs and diagrams but is frustratingly dull on more artistic books. I have not seen the laser-printed color yet, but I anticipate it will look more like the laser-printed color option that KDP has offered all along—with the color sitting on top of the page and being glossier in appearance.
Most of our clients write straightforward nonfiction, so black-and-white interiors are usually preferred. However, if you are publishing a book in which you need high quality photos or artwork, this option may be worth exploring. Read more about IS print options on their website.
Action needed?
If you haven't yet self-published a book but plan to, it's a good idea to just keep an eye on what the platforms are doing.
If you have published a book, I suspect the fee and discount changes will be of most interest—and it may be a good time to revisit your pricing.
Still have questions? Or need some professional help with your self-publishing journey? Email me at karin@clearsightbooks.com.